In the node detail page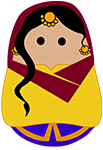 Punjabi
Makki di Roti
Duration: 20 minutes
Serves:

4 people

Spice Level: Zero
Authenticity Slice
This roti is best made on the slow fire of a traditional 'chulha' and then puffed up directly on its burning wooden embers. On a gas stove, however, you need to invest more patience and cook the roti on a low flame for much longer. The trick to the perfect Makki di Roti lies in how well the dough has been kneaded. Make sure to knead the atta not all together but in small batches, while using only warm water to mix in it.
Trivia Tadka
In the rural belt of Punjab, Himachal Pradesh and Haryana, Makki Ki Roti is more popular than atta rotis since it is considered more nutritious and filling. The authentic Makki Ki Roti is made with freshly-ground makki ka atta, or with atta that has preferably not aged beyond a month. Usually consumed just like a regular roti, it is also sometimes made into a 'churma', by hand-crushing and mixing a ready Makki Ki Roti in desi ghee and gud (jaggery). In Himachal Pradesh, it is crushed and mixed with a unique lassi preparation and then eaten as a slightly runny paste.
Ingredients
Corn flour (makki ka atta)

(½ kg)

Lukewarm water

(for kneading the atta)

White butter

(a dollop)
Method
Take a portion of the makki ka atta (two fistfuls, or enough to make an orange-sized ball) in a paraat (big, flat plate with shallow edges), and slowly knead it using just enough water for not less than 5 minutes, or until it turns into a smooth, even ball.
Make circles of makki roti by gently patting the kneaded ball of dough in the flat of your palm till it is even and round like a regular roti. Keep your palms and fingers damp to make sure that the dough does not stick.
Heat a tawa on a high flame. Gently transfer the makki roti onto the tawa and lower the flame.
Let the roti cook well on one side. It will take some time for it to cook through and turn pink.
Then, using a chimta (clasp), gently disengage the roti from the tawa and flip it. When both the sides have turned pink, take off the tawa from the flame.
Now, holding the roti with the chimta, transfer it over the open, low flame.
Let the roti puff up and then flip it to the other side. The final roti should be golden brown in colour.
Take the roti off the flame and plop a generous dollop of white butter on it.
Serve hot with Sarson Ka Saag and gud (jaggery) on the side.
MEAL
1,881

views +
Scroll To Top