Makki Ki Roti and Sarson Ka Saag
Makki Ki Roti and Sarson Ka Saag is globally feted as Punjab's signature combo meal but it is equally famous in the rural belts of Himachal Pradesh and Haryana too. A winter delicacy, it thrives on fresh sarson patta mixed with other greens such as methi, palak and kadvi saunf. The method of preparation may vary from state to state but the combination has stayed the same for ages—the saag goes best with makki ki roti. Folklore suggests that this combo is prepared in rural kitchens every winter after the corn crop is harvested for the first time and its atta is offered as thanks-giving to the local deity. Globally, it has acquired a name and status through Yash Chopra's films that have had some scenes shot in the brightly hued mustard fields of Punjab.
VIEW INDIVIDUAL RECIPES
Makki di Roti
Duration:20 minutes
Serves:4 people
Authenticity Slice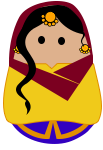 This roti is best made on the slow fire of a traditional 'chulha' and then puffed up directly on its burning wooden embers. On a gas stove, however, you need to invest more patience and cook the roti on a low flame for much longer. The trick to the perfect Makki di Roti lies in how well the dough has been kneaded. Make sure to knead the atta not all together but in small batches, while using only warm water to mix in it.
Ingredients
Corn flour (makki ka atta)

(½ kg)

Lukewarm water

(for kneading the atta)

White butter

(a dollop)
Method
Take a portion of the makki ka atta (two fistfuls, or enough to make an orange-sized ball) in a paraat (big, flat plate with shallow edges), and slowly knead it using just enough water for not less than 5 minutes, or until it turns into a smooth, even ball.
Make circles of makki roti by gently patting the kneaded ball of dough in the flat of your palm till it is even and round like a regular roti. Keep your palms and fingers damp to make sure that the dough does not stick.
Heat a tawa on a high flame. Gently transfer the makki roti onto the tawa and lower the flame.
Let the roti cook well on one side. It will take some time for it to cook through and turn pink.
Then, using a chimta (clasp), gently disengage the roti from the tawa and flip it. When both the sides have turned pink, take off the tawa from the flame.
Now, holding the roti with the chimta, transfer it over the open, low flame.
Let the roti puff up and then flip it to the other side. The final roti should be golden brown in colour.
Take the roti off the flame and plop a generous dollop of white butter on it.
Serve hot with Sarson Ka Saag and gud (jaggery) on the side.
Sarson da Saag
Duration:30 minutes
Serves:4 to 5 people
Authenticity Slice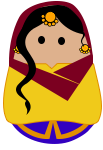 There are two authentic ways of preparing the Saag – you could either boil it over a slow fire along with grains of rice, or you could add in freshly-ground makki ka atta for thickness and flavour after the sarson has been boiled. Both ways ensure a creamy and thick Saag. The Saag, however, must never be run through a blender. Even though it takes longer, it must be mashed with the help of a potato-masher to get that traditional texture.
Ingredients
Mustard leaves (sarson)

(1 kg)

Spinach (palak)

(½ kg)

Green chillies (hari mirch), slit vertically

(4)

Garlic (lehsun), finely chopped

(8 to 10)

Ginger (adrak), finely chopped

(150 gm)

Clarified butter (ghee)

(for garnish)

Corn flour (makki ka atta)

(1 tbsp)

Salt

(to taste)

label

(For tadka)

Yellow mustard oil (sarson ka tel)

(2tbsp)

Cumin seeds (jeera)

(1 tsp)

Dry red chillies (sabut lal mirch), broken

(4 to 5)

Garlic (lehsun), finely chopped

(2 tsp)

Onion, chopped

(1 cup)

Asafoetida (hing)

(½ tsp)
Method
Clean all the greens and remove their stems. Thoroughly wash the leaves under running water at least 7 to 8 times. Then, finely chop the sarson and palak.
Put the greens in a pressure cooker and add the garlic, green chillies, ginger and salt, along with 2 cups of water. Pressure-cook on a high flame, timing it to 4 to 5 whistles, and then lower the flame. Let it simmer for 10 to 15 minutes.
Turn off the flame and allow the steam to escape naturally.
Open the pressure cooker lid and thoroughly mash the greens with a potato-masher. Continue till they have turned into a thick, rough paste.
Add in the Makki Ka Atta and mix thoroughly. Keep aside.
In a pan, heat a tablespoon of mustard oil on a high flame till it starts to give off smoke.
Wait for a few seconds, then add the jeera. As it begins to splutter, add the sabut lal mirch and garlic.
Just when the garlic starts letting off a heady aroma and starts to turn pink, add the onions.
Keep frying till the onions turn golden brown and then, add a pinch of hing.
You will know that the tadka is ready when the oil begins to separate from the other ingredients.
Add the Saag paste to this mix and simmer on a low flame for at least 10 minutes.
Serve hot with a liberal dash of desi ghee, and Makki Ki Roti smeared with white butter.
RELATED RECIPES
2,325

views +

1,707

views +

2,129

views +
GET IT RIGHT