In the node detail page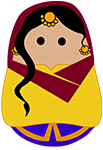 Punjabi
Dabra
Duration: 45 mins
Serves:

8-10 people
Authenticity Slice
Dabra is a rich, dry dessert popular during festivities. The trick to getting the texture right is to add sugar to the roasted ingredients only when they have cooled completely or else dabra will become sticky.
Trivia Tadka
Dabra is a type of trail mix that is a much-loved dessert in the Punjabi heartland. It can be stored up to several weeks and since it's made with nutritious nuts and ghee, it's the perfect dessert to keep on hand to get a quick boost of energy on cold winter days.
Ingredients
Semolina (sooji)

(1 1/2 cup)

Sugar

(3/4 cup)

Clarified butter (ghee)

(3/4 cup)

Almonds (badam), chopped

(1/4 cup)

Cashew nuts (kaju), chopped

(1/4 cup)

Raisin (kishmish)

(1/4 cup)

Melon seeds (magaz)

(1/4 cup)

Edible gum (goond)

(3–4 tbsp)

Pistachio (pista)

(2–3 tbsp)
Method
In a wide kadhai or heavy bottom pan, add 1/2 cup ghee and semolina.
Keeping the flame on low, keep stirring semolina for 8–10 mins until it develops a nutty aroma and acquires a pinkish-brown colour.
Don't stop stirring or the semolina might burn.
Remove from the flame, place in a large bowl or plate and allow it to cool completely.
Heat 1/4 cup ghee and individually roast almonds, cashews, melon seeds and edible gum for a few minutes each until they are toasted. Also, roast raisins until they plump up; allow them to cool completely.
Powder the edible gum to a fine mix.
Mix all the chopped nuts, edible gum pistachio and powdered sugar together.
Give the mixture a good mix to ensure that everything is evenly incorporated.
If you mix sugar with the roasted ingredients when they are still hot, the sugar will melt and the dabra will become sticky.
Store in an airtight container for up to 20 days.
Scroll To Top