In the node detail page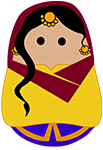 Punjabi
Authenticity Slice
Getting that perfect crunch can be difficult while making gajak. So, make sure you soak sesame seeds before dry roasting them for that perfect crunch, flavour and aroma.
Trivia Tadka
Gajak is said to have originated from Morena, Madhya Pradesh, but is a very popular sweet all over North India and at Lohri, it is sent along with rewari to married daughters from her "Maayeka", meaning maternal home.
Ingredients
Sugar

(2 cups)

Sesame seeds (safed til)

(1/2 cup)

Cashew nuts (kaju)

(1/4 cup)

Water

(2-4 tbsp)

Clarified butter (ghee)

(3 tbsp)
Method
Clean sesame seeds to remove dirt and grit. Soak them in water for 15–20 mins.
Drain and allow to dry on a clean cloth or napkin.
Grease a tray or plate with ghee and set aside.
Heat a heavy-bottom pan and toast dry sesame seeds for 4–6 mins until they are aromatic.
Remove from the flame and let them cool.
Combine sugar, ghee and water. Cook for 5–6 mins until the mix turns into a thick syrup.
Take it off the flame, add sesame seeds and cashew nuts, working quickly.
Spread the mixture onto a greased plate and using a rubber spatula or bottom of a katori, spread the mixture evenly.
While the mixture is still hot, cut it into medium-sized squares and let them cool.
When cool, gently separate the gajak into pieces.
Store in an airtight container for up to a month or two.
Scroll To Top