In the node detail page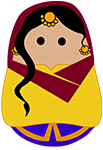 Punjabi
Shahi Paneer
Duration:
Serves:

people

Spice Level: Medium
Authenticity Slice
This royal recipe has a rich taste, a thick gravy and melt-in-your-mouth paneer cubes. Use fresh homemade paneer, preferably, to make this dish. Add generous amounts of ground cashew nuts to make the gravy thick and always fry the paneer in butter before adding it to the gravy to give it its traditional taste.
Trivia Tadka
The word shahi means royal and true to its name, the dish was created by the khandsamas or the royal cooks in the Mughlai Emperor's kitchen. This rich, paneer creamy dish made with fresh cream and dry fruits is served along with Indian flatbreads.
Ingredients
Cottage cheese (paneer), cubed

(250 gm)

Oil, to fry paneer

(2 tsp)

Butter or ghee

(1 tbsp)

Curd (dahi)

(1/4 cup)

Cream (malai)

(1/2 cup)

Cashew nuts (kajoo), soaked in hot water for 10 mins and ground to a smooth paste

(20)

Onions, chopped and ground into a paste

(2, large)

MTR Lal Mirch/Red Chilli Powder

(1 tsp)

MTR Haldi/Turmeric Powder

(a pinch)

MTR Special Gram Masala

(1/2 tsp)

Cardamom (elaichi) powder

(1/2 tsp)

Salt

(to taste)
For garnishing
Cream (malai)

(2 tsp)

Fenugreek (kasoori methi)

(1 tsp)
Method
Learn how to make paneer at home, here.
In a bowl, add cashew paste, curd, MTR Haldi/Turmeric Powder, MTR Lal Mirch/Red Chilli Powder, MTR Special Garam Masala and whisk well.
Heat butter in a pan and add the ground onion paste and a pinch of salt.
Cover and cook over low flame for 1–2 mins and then stir in the cashew-curd mixture.
Keep stirring and cooking the mixture over low flame for 2–3 mins.
Add water (approximately 1 cup) and bring the mixture to a boil. Switch off.
Pan-fry the cubed paneer till it browns uniformly on all sides.
Add the pan-fried paneer and ½ cup cream to the gravy.
Garnish with 2 tsp cream and kasoori methi.
Your delicious shahi paneer is ready to be served with parathas/phulkas or naan.
Scroll To Top