In the node detail page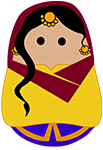 Punjabi
Lal Gajar Ki Kanji
Duration: 25 minutes
Serves:

2 people

Spice Level: Zero
Authenticity Slice
During the winters in Northern India, one can find the unique purple carrots to make kanji, but since they are not found elsewhere, you can instead use Delhi (red) carrots and add beetroot to get the beautiful purple hue to the drink.
Trivia Tadka
During the Holi festival, kanji is one of the favoured beverages served to family and friends.
Ingredients
Carrot (gajar), peeled and cut in long strips

( 1 cup)

Turnip (shalgam), peeled and cut into long strips

(1/2 cup)

Beetroot (chukandar), peeled and cut into long strips

(2 tbsp)

Mustard (sarson), powdered

(3 tbsp)

Black salt (kala namak)

(2 tsp)

Asafoetida (hing)

(1/4 tsp)

Boiled water

(6 cups)

Salt

(to taste)
Method
Add chopped carrots, beetroot and turnip to a large glass jar, along with spices, stir well.
Cover the jar with a muslin cloth and place it in the sun for 2-3 days to ferment.
Stir the contents of the jar several times a day.
When the water tastes sour, it is ready to use.
Refrigerate the kanji until chilled, as per preference.
Pour the kanji water and few pieces of veggies in glasses and served chilled.
Scroll To Top