In the node detail page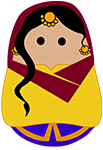 Punjabi
Kulcha
Duration: 15 minutes
Serves:

4 people

Spice Level: Zero
Authenticity Slice
The trick to getting the Kulcha just right in texture and taste is using slightly sour dahi and mixing it with warm water in the ratio of 1:3. Only a hearty kneading can ensure a smooth dough.
Trivia Tadka
Kulcha is a Punjabi dish popular on both sides of the Indo-Pakistan border. A healthier version of the deep-fried Bhatura, Kulcha has today morphed into a popular street food item that gets along famously with boiled Chhole Chat garnished with raw chopped onions, tomatoes, green chillies, chaat masala, and lemon juice. As variations, Punjabis stuff Kulche with either mashed potatoes or onions and relish them with vegetable pickle.
Ingredients
Maida (refined wheat flour)

(2 cups)

Curd (dahi)

(1 tbsp)

Sugar

(½ tbsp)

Salt

(a pinch)

Nigella seeds (kalaunji)

(1 tbsp)

Warm water

(to make the dough)
For fermenting the dough
Dried active yeast

(1 tsp)

Warm water

(¼ cup)

Warm milk

(¼ cup)
Method
Method for readying the yeast
Pour the warm water and the warm milk in a plastic bowl and mix. Sprinkle the yeast over this mixture and then stir with a spoon. Keep aside for 8-10 minutes. In that time, froth/foam would have formed on top of the liquid mixture.
Method for Kulcha
Sift the maida and add the ready yeast mixture to it.

Mix the dahi and warm water. Add the sugar, salt, and dahi-warm-water mix to the maida and knead till you get a soft, pliant dough.
Cover with a wet kitchen towel and leave it to rise for about 4 hours.
Break the dough into equal-sized balls and roll them out into flat, slightly oval-shaped Kulche

one by one

. Spread a little oil on your rolling pin and board to prevent the Kulcha from sticking.
Heat a tawa.
Sprinkle some kalaunji on one side of the Kulche and turn them over. Press down with the rolling pin to ensure that the kalaunji stick into the dough. Sprinkle some water on the other side of each Kulcha and place it water side down on the hot tawa. Reduce the heat and cover the tawa with a lid.
Let it cook on one side and then turn over till both sides turn crispy golden in patches.
Follow through with all the Kulche.
Serve crackling hot with Chhole.
Scroll To Top