In the node detail page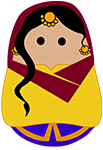 Punjabi
Kaju Roll
Duration: 30 minutes
Serves:

4–5 people
Authenticity Slice
Kaju rolls have a smooth, rich cashew nut flavour. For no-lumps and authentic kaju rolls, it is essential to pre-soak the cashew nuts in water so that you can make a fine paste when blended.
Trivia Tadka
The origin of this dish is from pre-partition Punjab where the traditional recipe was called kaju barfi, which transformed into kaju katli meaning pieces, and to the modern-day variation, kaju roll.
Ingredients
Cashew nuts (kaju)

( 1 1/4 cup)

Sugar

(1 cup)

Milk

(1 cup)

Clarified butter (ghee)

( 2 tbsp)

Few sheets of silver leaf (varak)

(For garnishing)
Method
Pre-soak cashew nuts in warm water for an hour. Drain and then grind them to a fine paste with milk.
In a heavy-bottom pan, add the cashew paste along with sugar and cook over low heat till the sugar dissolves. Keep stirring to prevent the paste from sticking to the pan.
Continue stirring over medium heat for 10–15 mins until the mixture leaves the sides of the pan, and forms a single mass.
Remove from heat, and when the dough is still warm and easy to handle, roll into long cylindrical logs of 1-cm thickness. Cut the logs with a sharp knife into 1-inch pieces
Place on a serving platter and gently place silver leaf on the logs. Your festive dessert is ready to be served!
Scroll To Top