In the node detail page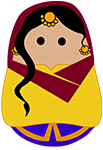 Punjabi
Authenticity Slice
This Lohri special has a thick, delectable and creamy texture. To achieve that perfect consistency, it is essential to use cooked rice as uncooked rice will not blend with the sugarcane juice.
Trivia Tadka
Fresh juice extracted from sugarcane is very popular in Punjab, wherein it is often shared in fields with a pinch of chaat masala. This kheer is however is commonly made from leftover juice cooked with rice.
Ingredients
Sugarcane juice (ganne ka ras)

(4 cups)

Milk

(2 cups)

Rice

(1/2 cup, cooked)

Cardamom (elaichi) powder

(1/2 tsp)

Coconut (nariyal), grated

(3 + 2 tbsp)

Almonds (badam), sliced

(2 tbsp)
Method
Heat a heavy-bottom pan and boil sugarcane juice for 10–15 mins, stirring occasionally.
Take the pan off the stove and with a whisk, blend in 1 cup of milk slowly.
Place it back on the flame, add rice and 3 tbsp coconut. Let it cook on a low flame for 10–15 mins.
The kheer will have thickened by now, add the rest of the milk to thin it down.
Add cardamom powder and let it cook for another minute.
Turn of the flame and garnish with almonds and grated coconut.
Serve warm.
Scroll To Top