In the node detail page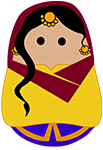 Punjabi
Baturu
Duration:
Serves:

people

Spice Level: Zero
Authenticity Slice
A good tip is to use desi shakkar or brown sugar in the dish to give it a rich flavour and colour. Also, the dough needs to rise, so you can either use yeast, or use pre-risen dough if you have it available. Bread could be an option here - soak 1 or 2 slices of bread in water and mash them before adding them to the flour.
Trivia Tadka
Baturu is popular across all north Indian states, especially in Punjab and Himachal Pradesh, and is especially prepared to mark festive occasions. In rural Punjab, where markets are generally far off from homes, this dish is much-loved as it can be easily made at home.
Ingredients
Wheat flour (atta)

(1 kg)

Brown sugar (desi shakkar)

(as per taste)

Oil

(for frying )
Method
In a pan, add the desi shakkar and mix it in 1 glass of water. Keep heating till the shakkar has dissolved.
Knead the dough using this brownish water and then leave it aside to rise. If it is winter time, then you may have to roll it up in a blanket and let it be through a night. In summer months, however, you can just roll it up in a towel and keep it so for 5 to 6 hours.
In a kadhai, heat the oil. Also, dab some oil onto your palms so that the dough doesn't stick.
Take out a small portion of the dough to make a roti.
Glide the roti into the kadhai. Fry it well on both sides till it is golden brown in colour.
Hot Baturu is now ready. Savour it for breakfast with pickle, jam, kadhi or vegetables.
Scroll To Top