In the node detail page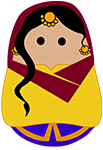 Punjabi
Adrakwali Chai
Duration: 10 mins
Serves:

2 people
Authenticity Slice
Adrakwali chai has a sharp, strong taste. Make sure to add fresh crushed ginger and boil it in water for at least 2–3 minutes before adding milk.
Trivia Tadka
'Chai' in Hindi means tea. During the British rule, tea consumption was encouraged. In order for it to be economical, the local tea vendors reduced the quantity of tealeaves and added Indian spices and milk, making it more flavourful.
Ingredients
Water

(1 cup)

Tea powder (chai patti)

(1.5 tsp)

Ginger (adrak)

(1/2 crushed)

Sugar

(3 tsp)

Milk

(1 cup)
Method
Heat water over low flame.
When it starts to boil, add crushed ginger and sugar.
Simmer for 2 mins and then add the tea powder.
Let it boil for 2 mins.
Now add milk and allow the tea to boil and rise up.
Switch off the heat and cover it with a lid for 2–3 mins.
Strain in a sieve.
Enjoy your rejuvenating adrakwali chai.
Note: You can adjust the quantity of tea powder, ginger, milk and sugar according to your taste preference.
Scroll To Top