In the node detail page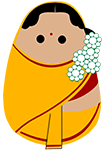 Telugu
Upma
Duration: 20-25 minutes
Serves:

6 people

Spice Level: Low
Authenticity Slice
In Andhra homes, Upma is smeared with a teaspoon of aromatic desi ghee when it is ready to be served. This lends flavour and a particular sheen to the dish.
 In the coastal Andhra region, Upma is made lighter and more crumbly by using water in a 2:1 proportion to sooji. Usually more water is used to make for a heavier dish. With the MTR Poha Mix, getting all the authentic ingredients together will not be a cumbersome task anymore!
Trivia Tadka
Upma is popular in all the peninsular states owing to its versatility, as each region serves up its own local authentic variation. Although sooji is the most widely used ingredient for this dish, Upma prepared from rice, whole or refined ground wheat, seviyan, and dalia are popular as well. When prepared as an offering in temples, Upma takes on a different flavour laced with grated coconut and ghee.
Ingredients
Water

(450 ml)

Ghee

(1 tsp, for smearing)

MTR Upma Mix

(1½ tbsp)

Oil

(80 gms)

Carrot, chopped and power boiled

(80 gms)

Beans, chopped and power boiled

(80 gms)

Peas, power boiled

(2 tbsp, for garnishing)
Method
Pour 450 ml of water in a pan. Let it boil for about 1 minute.
Before adding the upma, add the oil to the water. This is done so that the oil gets into each grain of upma and the upma doesn't get sticky with lumps.
Add the MTR Upma Mix to the boiling water slowly, stirring continuously to avoid lumps. It should take about 4-5 minutes to get done.

Just a minute before finishing, add some power-boiled carrots, beans, and peas to the upma. Mix till the upma absorbs all the water and the consistency becomes thick. Just as it gets done, you'll see that it has left the sides of the pan.

Smear with a teaspoon of ghee and garnish with dhaniya leaves before serving.

Upma may be eaten as a breakfast dish or a snack.
MEAL
2,729

views +
RELATED RECIPES
3,640

views +

2,799

views +
Scroll To Top