Pesarattu, Upma, Allam Pachadi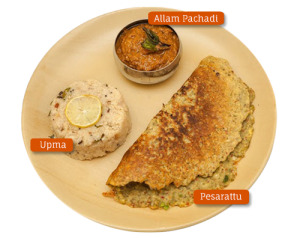 Pesarattu and Upma together make a popular Andhra breakfast that is best served with Allam Pachadi (ginger chutney). Locally, the meal is known as 'MLA Pesarattu'. The nomenclature came into being in the 1950s when the combination became a rage in the restaurants of Hyderabad's MLA Quarters area. It is believed that serving Pesarattu and Upma priced as a single dish had become a loss-making venture. However, the restaurant owners in the area continued to serve this combination to the prominent members of the MLA quarters only. They instructed their cooks to hide the Upma inside the folds of the Pesarattu when they served it to the select few in order to deceive the rest of the customers clamouring for the combination.

Upma was and continues to be a hot favourite in the coastal regions of Andhra Pradesh, which comprise Guntur, Krishna and Godavari districts—the bastion of the most powerful MLAs. 'Upma Pesarattu' became so famous that the combination made it to a special travel website created by the State Government in 2002 as part of its Incredible India campaign.

MLA Pesarattu is best served on a banana leaf and makes a filling and satisfying authentic breakfast. You may prepare the Allam Pachadi in advance. Start with the Upma and then make the Pesarattus. Quickly fill in the Pesarattus with Upma as you would stuff Masala Dosa—the Pesarattus must be piping hot.


VIEW INDIVIDUAL RECIPES
Pesarattu
Duration:30 minutes
Serves:6 people
Authenticity Slice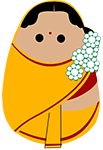 Using ready-made/pre-made rice flour as a quick fix tends to make the Pesarattu too crispy. It's best to soak the rice overnight alongside the dal to get the texture just right.
Ingredients
Sabut moong dal (whole green gram), washed and soaked for 5-7 hours

(2 cups)

Rice, soaked for 5-7 hours separately

(½ cup)

Green chillies (hari mirch), chopped

(3)

Ginger (adrak)

(½ inch)

Asafoetida (hing)

(¼ tsp)

Salt

(1 tsp)

Coriander leaves (hara dhania, chopped)

(a few)

Onion, chopped

(¼ cup)

Ghee

(½ tsp)
Method
In a mixer-grinder, grind the dal, rice, hari mirch, adrak, hing and dhania leaves to a smooth dosa-batter consistency. Add salt to taste and set aside for 5 to 10 minutes. The batter needs to settle for a while so that the dal is completely soft.
Heat the tawa. Wipe it with a moist cloth when hot and grease with ghee.

Pour a small katori of batter in the centre of the tawa and move the katori in concentric circles quickly, using the katori base to spread the batter. Increase the flame to high. As the edges of the Pesarattu start to curl up, sprinkle ghee around it and some on top as well.

Sprinkle onions and dhania on top of the Pesarattu, pressing down gently. Let it cook for about 30 seconds more on low flame. No need to flip the Pesarattu. It will be ready to serve once it gives off a pleasing aroma and is no longer sticky at the top. Gently slide a wooden spatula under it and transfer to a serving plate.

Present the Pesarattu rolled up like a regular dosa. Serve with chutney of your choice, though traditionally ginger chutney is preferred. To enhance the flavour of the Pesarattu and give it a deep golden hue, Andhrites use cow milk ghee, which is yellow, more textured, and has a strong aroma.
Upma
Duration:20-25 minutes
Serves:6 people
Authenticity Slice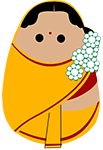 In Andhra homes, Upma is smeared with a teaspoon of aromatic desi ghee when it is ready to be served. This lends flavour and a particular sheen to the dish.
 In the coastal Andhra region, Upma is made lighter and more crumbly by using water in a 2:1 proportion to sooji. Usually more water is used to make for a heavier dish. With the MTR Poha Mix, getting all the authentic ingredients together will not be a cumbersome task anymore!
Ingredients
Water

(450 ml)

Ghee

(1 tsp, for smearing)

MTR Upma Mix

(1½ tbsp)

Oil

(80 gms)

Carrot, chopped and power boiled

(80 gms)

Beans, chopped and power boiled

(80 gms)

Peas, power boiled

(2 tbsp, for garnishing)

Dhaniya (coriander) leaves

()
Method
Pour 450 ml of water in a pan. Let it boil for about 1 minute.
Before adding the upma, add the oil to the water. This is done so that the oil gets into each grain of upma and the upma doesn't get sticky with lumps.
Add the MTR Upma Mix to the boiling water slowly, stirring continuously to avoid lumps. It should take about 4-5 minutes to get done.

Just a minute before finishing, add some power-boiled carrots, beans, and peas to the upma. Mix till the upma absorbs all the water and the consistency becomes thick. Just as it gets done, you'll see that it has left the sides of the pan.

Smear with a teaspoon of ghee and garnish with dhaniya leaves before serving.

Upma may be eaten as a breakfast dish or a snack.
Allam Pachadi
Duration:30 minutes
Serves:2 people
Authenticity Slice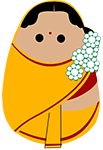 Use only tender adrak, which is smooth to taste and not gravelly with threads. Generally, Andhrites break the adrak into pieces at the vegetable store to check the roots and avoid picking those with strands. In some areas of the state, shopkeepers actually stock an 'Allam Chutney' variety of adrak separately.
Ingredients
Ginger (Adrak)

(2 inches)

Tamarind (Imli), seedless

(1 lemon sized ball)

Jaggery (Gud)

(2 tbsp)

Black mustard seeds (Rai)

(1 tsp)

Cumin seeds (Jeera)

(1 tsp)

Black gram (Urad dal)

(2 tsp)

Split chickpeas (Chana dal)

(2 tbsp)

Coriander seeds(Sabut dhania )

(2 tbsp)

Whole red chillies(Sabut lal mirch)

(5-6)

Salt

(to taste)

Oil

(2 tbsp)

Curry leaves (Kadipatta)

(a few)
Method
Soak the imli in a cup of warm water for about an hour.

Clean, wash, and dry the adrak by wrapping it in a clean cloth for around 30 minutes or till the dampness disappears. Chop the dry adrak into pieces.

Heat 1 tbsp oil in a pan and add jeera. When the jeera starts spluttering and gives off an appetising aroma, add chana and urad dal.
Fry until the dals turn golden brown. Add dhania and sabut lal mirch and fry for a few seconds more before turning off the flame. (Make sure you follow this sequence while preparing the tadka. Dhania and sabut lal mirch burn fast and hence need to be added after the jeera and the dals are done.)
When cool, grind the dal mixture along with the chopped adrak, gud, imli, and salt to taste. Add water only if necessary; water decays the chutney faster, cutting down its shelf life.
Heat 1 tbsp oil in a pan and add rai and kadipatta to it. When the rai starts spluttering, take the tadka off the flame and pour it over the chutney. This spice mix will sizzle and give off an appetising fragrance. Cover it instantly to let the flavours seep in.

Allam Pachadi can be eaten warm or cool.

RELATED RECIPES
7,179

views +

3,385

views +

4,730

views +
GET IT RIGHT