In the node detail page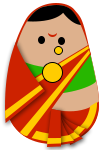 Maharashtrian
Mango Shrikhand (Amrakhand)
Duration: 30 minutes
Serves:

2 people

Spice Level: Zero
Authenticity Slice
Elaichi (cardamom) and kesar (saffron), along with a dash of dalchini (cinnamon), combine to give Shrikhand the best overall flavour. To get that right texture and flavour, it is essential to have the consistency of the curd just right, with utmost care taken to prevent it from going sour. It is best to keep the curd refrigerated and hung during the night, when the temperature is at the lowest. In olden kitchens, the curd used to be hung and kept in the open, but now, you can hang the curd in the refrigerator – just tie it up in a muslin cloth and place it on a sieve that is held over a bowl, wherein the whey can collect.
Trivia Tadka
Shrikhand, the popular dessert made from hung curd, is a common presence in most Gujarati and Maharashtrian homes. Its preparation is essentially simple, but the processing of the curd to the right consistency can be a time-consuming step. The authentic method prescribes hanging the curd in an open verandah or in the backyard, both places where dew would fall naturally and aid the process well. A popular Maharashtrian variation of the Shrikhand is 'Amrakhand', in which the curd is blended with the pulp of mangoes, preferably Alphonso.
Ingredients
Curd (Dahi)

(750 gm)

Powdered sugar

(½ cup)

Green cardamom (Hari elaichi) powder

(½ tsp)

Cinnamon (Dalchini) powder

(a pinch)

Almond (Badam), peeled and slivered

(6 to 8)

Mango pulp

(1 cup)

Saffron (Kesar)

(3 to 4 strands)
Method
Gather and tie up the curd in a muslin cloth and hang it in a cool place for 3 to 4 hours.
Peel the mangoes, squeeze out their pulp and purée it in a blender till smooth.
Pour the thick hung curd into the blender, along with the elaichi powder, kesar, dalchini powder and sugar and blend till smooth.

Transfer to a bowl and let it chill in the refrigerator for a few hours.

Serve the Mango Shrikhand with pooris or as a stand-alone dessert.
In Your Kitchen
Do not throw away the whey, as it is highly nutritious. You can use it to knead dough, or to cook rice in. You can also add it to any kind of lassi that you might want to make.
RELATED RECIPES
1,307

views +

1,610

views +
Scroll To Top