Dal Baati Churma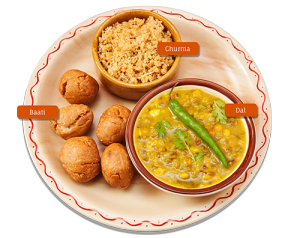 Dal-Bati-Churma is Rajasthan's most popular meal combination served with coarsely mashed baati dipped into desi ghee and daal and powdered atta laddoo mixture for company. Originating as a fast, long-lasting and easy-to-make food for the continuously warring armies of the warrior kings of Rajasthan, this combination has now become a delicacy served across northern India at parties and special occasions. The baati came first as soldier staple and the dal and churma were added to it after it became a regular dish in common kitchens of the State.
VIEW INDIVIDUAL RECIPES
Dal Baati
Duration:30 minutes + soaking time
Serves:2 to 4 people
Authenticity Slice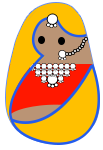 Soaking the dal for 4 to 5 hours helps in giving it the perfect texture, so do not skip this essential step. Be liberal with ghee while cooking as dry Baatis are disastrous. Also, take care to keep the Baati balls small or their insides will not bake properly. Conversely, the dough needs to be very stiff or the insides of the Baatis will become too chewy. If the baked Baatis become very hard, put them in a microwave oven for a couple of seconds.
Ingredients
label

(For Dal)

Kidney beans (rajma)

(2 cups)

Black gram (urad dal)

(¾ cup)

Onions, finely chopped

(3)

Tomatoes, finely chopped

(2)

MTR Garam Masala Powder

(2 tsp)

MTR Lal Mirch Red Chilli Powder

(2 tsp)

MTR Haldi Turmeric Powder

(1 tsp)

Ginger-garlic paste

(1 tbsp)

Green chillies (hari mirch), chopped

(2)

Fresh cream

(2 tbsp)

Ghee

(4 tbsp)

Coriander leaves (hara dhania), chopped

(1 cup)

Oil

(4 tbsp)

Salt

(to taste)

label

(For Baati)

Wheat flour (atta)

(5 cups)

Desi ghee

(1 cup)

Curd (dahi)

(2 tbsp)

Salt

(to taste)
Method
Thoroughly wash the rajma and the black gram and soak them in water for 5 to 6 hours, or overnight.
Toss the rajma and the black gram into a pressure cooker, and time it to 5 whistles.
Heat 4 tbsp of oil in a kadhai and fry the chopped onions in it till they turn brown.
Add in the ginger-garlic paste and the chopped tomatoes. Stir well.
Add in all the masalas, the cooked dal and salt and let the mix simmer till all the ingredients have blended well and the gravy has thickened.
Pour ghee over the mix and keep aside. In a paraat (flat, round plate with high edges), knead the flour using ghee, curd, salt, and enough water to make a stiff dough.
Break off the dough into lemon-sized balls. Cover and keep aside for an hour.
Working in batches, roast the dough balls on hot coal till they puff up and turn golden on the outside and sponge-like from the inside. Keep them hot.
Garnish the dal with hara dhania and slit green chillies.
Soak the hot Baati dumplings in a pot of desi ghee for a minute and then scoop them out.
Serve hot with the dal.
Churma
Duration:30 minutes
Serves:2 to 4 people
Authenticity Slice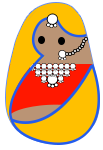 The amount of ghee used during the making of the Laddoos is critical to the success of the dish, so remember to be very liberal with it. Else, the Laddoos will come out dry and tasteless.
Ingredients
Wheat flour (atta)

(2 cups)

Desi ghee

(4 cups)

Khoya

(1 cup)

Sugar, ground

(2 cups)

Almond (badam), soaked and finely chopped

(15)

Green cardamom (hari elaichi)

(4)

Cinnamon (dalchini)

(1-inch)
Method
In a paraat (flat, round plate with high edges), melt the ghee and then add the atta to it to make a stiff dough. Use very little water while kneading. Heat the rest of the ghee in a kadhai.Make about 15 to 20 balls of the dough and fry them on a low flame till they turn golden brown. Allow them to cool and then churn them in a mixer-grinder. Next, mix in the khoya. Heat 1 tbsp of ghee in a kadhai and add the elaichi dana and dalchini to it. Keep frying till the natural aromas waft out and then add it to the mixture of wheat flour and khoya. Fry the whole mixture for a minute. When it has cooled down, add in the sugar and chopped almonds. Mix well. Make Laddoos out of this mix and serve either as a stand-alone sweet dish, or as Churma with dal baati.
RELATED RECIPES
7,179

views +

3,385

views +

4,730

views +
GET IT RIGHT