Akki Roti, Ellu Pajji, Buttermilk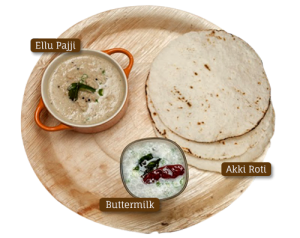 Akki Roti and Ellu Pajji (rice roti with sesame-coconut chutney) with Buttermilk are Coorg's signature meal and a hot favourite among the region's myriad boarding school kitchens. In Kodava homes, this meal combination is the favoured breakfast for a lazy weekend. Sometimes, the chutney is drizzled with honey to temper its nutty sesame flavour and give it an added twist. Buttermilk is mostly homemade and served with the typical tempering of kadipatta and rai.
VIEW INDIVIDUAL RECIPES
Akki Roti
Duration:25 minutes
Serves:4 people
Authenticity Slice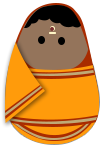 The authentic method of making Akki Roti is not by rolling it out, but by flattening the rice dough on a banana leaf. It is then to be cooked on a tawa with the leaf resting on top of the roti, which helps it cook evenly and gives the dish a distinct flavour.
Ingredients
Rice, cooked

(3 cups)

Rice flour

(1 cup)

Salt

(to taste)

Rice flour (extra)

(for dusting the rotis)
Method
Add salt to the cooked rice and knead till soft. Add the rice flour, a small amount at a time, and knead without adding water till the dough is of a roti-dough consistency.

Make lime-sized balls of the dough, cover them with a damp towel, and set them aside.

Roll out the rotis one at a time, dusting them with rice flour as needed.
Heat a cast iron tawa on medium flame and place a roti on the tawa. When it begins to bristle up, turn it over and gently press down its sides with a clean cloth. The Akki Roti will begin to puff up like an atta roti.
A few seconds just before it's fully cooked, slide the roti off the griddle using a flat pair of tongs and let it softly land directly over low flame. This helps to lock in the puffiness and make the roti's skin lightly crisp.
Follow through with the rest of the rotis in the same manner.
You may also roast the rotis the authentic way by laying the dough on a banana leaf and flattening it out to shape. While still topped by the leaf, transfer the rotis on to a tawa and cook till puffy and crisp.
Serve hot with a chutney of your choice. Usually, Akki Rotis are eaten with

Ellu Pajji (

sesame chutney).
Ellu Pajji
Duration:10 minutes
Serves:4 people
Authenticity Slice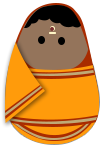 Ellu Pajji tastes best when the seeds have been ground using an authentic grinding stone. The slow, manual process keeps the texture of the til just right and helps enhance its taste. In modern kitchens, however, mixer-grinders provide a quicker alternative. The key is to keep the texture of the chutney somewhat grainy.
Ingredients
Sesame seeds (Safed til)

(⅓ cup)

Coconut, fresh and grated

(⅓ cup)

Onion (small), roasted till dark

(2)

Green chillies (Hari mirch), cut finely

(4)

Tamarind (Imli) paste

(¾ tbsp)

Jaggery (Gud), shredded

(1 tbsp)

Salt

(to taste)
Method
Coarsely chop the charred onions and the hari mirch and toss them into a blender.
Add all the remaining ingredients to the onion-chilli mix and grind to a coarse paste.
Set aside in a bowl.
This chutney is best enjoyed with hot Akki Rotis, Dosas, or Idlis.
Buttermilk
Duration:5 minutes
Serves:4 people
Authenticity Slice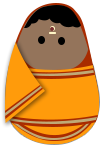 An even consistency is the key trait of a perfect buttermilk. Unlike 'Lassi', this drink is almost as thin as water and is considered a trusted cooling agent and digestion-aide. The water-curd ratio of an authentic buttermilk is 6:1.
Ingredients
Curd (Dahi)

(1 cup)

Water

(6 cups)

Curry leaves (Kadipatta)

(4-5)

Yellow mustard seeds (Sarson)

(½ tsp)

Whole red chillies (Sabut lal mirch), broken

(1)

Green chillies (Hari mirch), finely cut

(1)

Salt

(to taste)

Oil

(for tempering)
Method
Whisk the curd in a mixer-grinder for half a minute. Add the water and whisk again for a minute.
Pour out in a vessel, cover with a lid, and set aside.
For tempering, heat the oil in a pan. Add the sarson, kadipatta, and lal mirch. Stir till the sarson starts to splutter.
Quickly toss the crackling mix over the buttermilk and cover it again.
Once the flavours have seeped in (takes about 30 seconds), open the lid and add the green chillies and salt. Serve as a standalone drink or as accompaniment to Akki Roti and Ellu Pajji.
RELATED RECIPES
7,214

views +

3,432

views +

4,783

views +
GET IT RIGHT