In the node detail page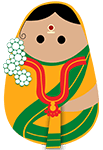 Tamil
Vivika
Duration: 30 minutes
Serves:

4 people

Spice Level: Zero
Authenticity Slice
A mixture of three kinds of rice—cooked, boiled, and raw—accords these sweet Idlis their signature soft texture. The use of palm pulp also gives this dish a distinct bitter edge.
Trivia Tadka
Food lore credits Gujarati weavers who visited Tamil Nadu for trade as the creators of this sweet Idli. They are the ones who added the distinct sweet flavour of the Gujarati cuisine to this dish. Also known as Pathaneer Sweet Idli, Vivika is a staple breakfast of the people of southern Tamil Nadu. There has also been speculation that the origin of Vivika lies in Indonesia, where the modern-day Idli was first created.
Ingredients
Raw white rice

(1½ cup)

Boiled white rice

(½ cup)

Cooked white rice

(½ cup)

Black gram (Urad dal)

(¼ cup)

Fenugreek seeds (Methidana)

(1 tsp)

Salt

(½ tsp)

Palm pulp (Pathaneer)

(200 gm)

Coconut, shredded

(½ cup)

Green cardamom (Hari elaichi), powdered

(3)

Cashew nuts (Kaju), broken coarsely

(10-15)

Oil

(as required)

Water

(2 cups)
Method
Soak the raw rice, boiled rice, urad dal, and methidana together in 2 cups of water for 8 hours.
Drain the water and grind them in a mixer-grinder to make a smooth batter.
Season the batter with salt, cover it, and leave aside to ferment for another 8 hours.
Just before making the Idlis, add the pathaneer, coconut, powdered cardamom, and cashew nuts to the batter.
Fold in the cooked rice and mix the batter thoroughly.
Grease the Idli moulds lightly with oil. Pour the batter into the moulds, making sure that they are only half-filled.
In a pressure cooker, add about an inch of water and allow it to come to a boil on a high flame.
Once the water is boiling, lower the flame and carefully place the Idli moulds inside. Close the cooker lid but remove the whistle to let the steam escape.
Let the Idlis steam for about 10-15 minutes on low flame.
Open the lid and remove the Idli moulds from the cooker. Take extra care while doing this as the cooker steam can burn your fingers.
Let the Idlis cool for 2-3 minutes. Then, moving a knife from the outer edge of the Idlis, de-mould them one by one.
Serve warm or piping hot, as suits your taste.
In Your Kitchen
If gud (jaggery) or pathaneer (palm pulp) is not available, palm sugar can serve as a good alternative.
RELATED RECIPES
7,214

views +

5,477

views +
Scroll To Top