In the node detail page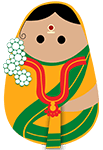 Tamil
Vellam Seedai
Duration: 20 minutes
Serves:

2 to 4 people

Spice Level: Zero
Authenticity Slice
One needs to be very careful about the water content in the dough. To ensure its perfection, the jaggery water must be added to the dough bit-by-bit, so that it does not become too pliant and turns out good enough to make small balls with. Also remember to roast and sieve the flour twice over, as this will prevent the Seedai from cracking. Cook the Seedai on a low flame so that its insides do not remain raw.
Trivia Tadka
Vellam Seedai, a traditional snack prepared in Kerala and Tamil Nadu during Janmashtami, is very delicious and very easy to make. The word 'vella' means 'jaggery' in Tamil. Interestingly, this sweet is rock hard on the outside but powdery on the inside.
Ingredients
Rice flour

(1 cup)

Black gram flour (urad dal atta)

(1 tsp )

Jaggery (gud), grated

(½ cup)

Green cardamom (hari elaichi), powdered

(2 to 3)

Desi ghee

(2 tsp)

White sesame seeds (safed til)

(2 tsp)

Fresh coconut, chopped

(1 tbsp)
Method
In a pan, roast the rice flour on a low flame for a minute or 2. Be careful that it does not change colour. Take it off the flame.
Sieve this flour and roast it again.
Repeat this process once more. Be very careful not to over-roast the flour. Keep it aside.
Next, dry-roast 4 tbsp of urad dal till it turns golden brown in colour. Take it off the flame and let it cool.
Once it has cooled down, toss it into a mixer-grinder, and work up a fine powder.
Sieve this powder twice and store the flour in an airtight container till you make use of it.
In a kadhai, dry-roast the safed til and chopped coconut till they turn golden brown.
To the roasted rice flour, add the urad dal powder and mix well.
Next, add in the roasted sesame seeds and ghee.
Heat a saucepan and add in the jaggery along with 2 tbsp of water.
Once the jaggery has melted, put it through a muslin cloth to filter out the impurities.
Add a pinch of elaichi powder to the jaggery and then heat it in the saucepan till it comes to a rolling boil.
Switch off the flame and slowly add the jaggery to the flour mixture and mix gently using a spoon.
Add in 2 tbsp of water and knead it into a tight dough.
Make small balls of this dough and spread them out on a newspaper sheet so that it absorbs the excess moisture. Let this sit for 10 minutes.
Heat oil in a kadhai for deep-frying.
Make small batches of the Seedai balls and then one-by-one, slowly drop them into the oil. Make sure not to add too many at a time.
Keep the flame on a medium or else the Seedai will not cook from the inside. When the balls turn brown, take them out with a ladle and spread them out on a kitchen towel.
Serve hot or cold.
RELATED RECIPES
7,052

views +

5,357

views +
Scroll To Top