In the node detail page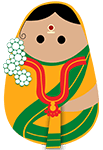 Tamil
Tomato Dosa (Thakkali Dosa)
Duration: 20 minutes
Serves:

3 people

Spice Level: Medium
Authenticity Slice
The slight tangy taste and alluring red hue of the tomatoes make the Thakkali Dosa a favourite among dosa-lovers. To ensure the best-tasting and best-looking dosas though, good care needs to be taken to grind the tomatoes into a smooth, fine paste. To further perfect it, any remaining lumps or seeds must be removed using a sieve. And, to lend it a deeper shade of red colour, mix in some Kashmiri lal mirch powder to the dosa batter.
Trivia Tadka
Dosa dates back to the 5th century AD, making it one of India's most ancient dishes. The earliest documented versions of the dosa were made using only lentils. But at some unknown point in history, rice came to be added to the batter and the dosa acquired its now much-loved texture and taste. Thakkali Dosa, also known as 'Tomato Dosa', is one of the more popular versions of the dosa. Many even refer to it as 'instant dosa' as there is no need to ferment the batter to prepare this dish.
Ingredients
Idli rice/parboiled rice

(2 cups)

Tomato, finely chopped

(3, big-sized)

MTR Lal Mirch/Red Chilli Powder

(1 tsp)

Kashmiri lal mirch powder

(1½ tsp, optional)

Mustard leaves (sarson)

(¾ tsp)

Oil

(2 tsp)

Black gram (urad dal)

(1 tsp)

Asafoetida (hing)

(2 pinches)

Curry leaves (kadipatta)

(5 to 6)

Onion, finely chopped

(1)

Salt

(to taste)

Water

(as required for grinding)
Method
Wash the rice thoroughly and soak in water for a minimum of 6 hours. It is best to soak it overnight.
Toss the soaked rice in a mixer-grinder along with the tomatoes and MTR Lal Mirch Chilli Powder, adding in a little bit of water if required. The batter should be a bit thinner than the regular dosa consistency.
Pour this batter into a vessel and add salt as per taste.
Heat 2 tsp of oil in a pan on a medium flame. Add the sarson, urad dal, hing and kadipatta and keep frying till the sarson begins to splutter and the dal starts to change colour.
Add the chopped onion and keep frying till they turn translucent.
Turn off the flame and add this tempering to the batter. Cover with a lid for a few minutes to let the batter soak in the flavours.
Next, heat a non-stick dosa tawa and sprinkle some oil on it. As it begins to give off smoke, gently wipe the tawa with a clean, moist cloth.
Pour a ladle-full of batter at the centre of the tawa and using the base of a katori, spread it clockwise to make a circular dosa of 5 to 6 inch diameter.
Once the edges begin to curl up, flip the dosa. Allow it to cook on a medium flame till the dosa acquires a golden red hue on both sides.
Transfer the Thakkali Dosa to a serving plate and serve hot with coconut chutney and sambar.
MEAL
4,181

views +
RELATED RECIPES
7,052

views +

5,357

views +
Scroll To Top