In the node detail page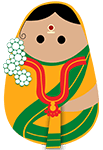 Tamil
Tirunelveli Halwa
Duration: 30 minutes
Serves:

5 to 6 people

Spice Level: Zero
Authenticity Slice
You might not get the dish's authentic colour when preparing it in smaller quantities, but even then it is best to avoid the use of any artificial colouring agent. There is, however, one way to naturally colour your halwa. The trick is in taking 3 tsp of ghee, adding 2 tsp of sugar to it and stirring it till the sugar starts melting and caramelising. Once the ghee starts changing colour to brown, pour it over the halwa mixture and get the required colour naturally.
Trivia Tadka
The Tirunelveli Halwa is more than 3-centuries old. This lovely sweet dish was first prepared by those members of Rajasthan's Rajputra community who had come down to serve Tirunelveli's zamindars. The brown colour of the halwa comes from the use of wheat, sugar, ghee and cashew nuts in the recipe. Folklore suggests that initial preparations used water only from the nearby Thamirabarani River. The popular belief then was that this water lent a unique flavour to the dish. The first halwa shop opened in the year 1882 in Tirunelveli, so the dish came to be called 'Tiruneveli Halwa'.
Ingredients
Broken wheat (Gothumai rava)

(1 cup)

Sugar

(2⅓ cups)

Desi ghee

(1¼ cup)

Cashew nuts (Kaju), roughly chopped

(3 tbsp)

Green cardamom (hari elaichi) powder

(¼ tsp)

Water

(1½ cups)
Method
Wash and soak the broken wheat in water overnight.
In a mixer-grinder, work up the wheat along with a little water. Make a fine paste and run it through a strainer to extract the wheat milk.
After straining out the wheat milk, put the paste back into the mixer-grinder and grind once again.
Strain again.
Let the collected wheat milk stand for an hour. Then, carefully discard the resultant clear liquid.
Add 1½ cups of water to the thick wheat milk and mix it well.
Add 2¼ cups of sugar in a non-stick pan with half a cup of water and bring it to a boil. To check if the consistency is right, place a drop of the syrup between your thumb and index finger and tap it once or twice. If a string forms between your fingers, then you have got it right.
Meanwhile, in a separate pan, add the remaining sugar along with 2 tbsp of ghee and heat the mix. Keep stirring till the sugar melts and caramelises and the ghee turns deep brown in colour.
Switch off the flame and keep aside.
Now, add the wheat milk to the sugar syrup and mix well.
Once the added milk has become slightly thicker and translucent, add in the caramelised sugar. Start slowly adding in the ghee, stirring continuously.
Continue slowly adding the ghee at regular intervals, till the concoction starts to leave the sides of the pan.
Turn off the flame.
In a kadhai, shallow-fry the cashew nuts in a tsp of ghee.
Add the fried cashews and the cardamom powder to the halwa and mix well.
Serve hot.
RELATED RECIPES
7,052

views +

5,357

views +
Scroll To Top