In the node detail page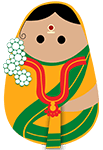 Tamil
Thayir Sadam (Curd Rice)
Duration: 20 minutes
Serves:

2 people

Spice Level: Low
Authenticity Slice
Traditionally, a mix of pre-cooked rice and par-boiled rice is used to make Thayir Sadam. To add a healthy twist to the recipe, toss in some vegetables like carrot and beetroot. A dash of pomegranate seeds will give the rice some sprightly colour. Tamilians prefer to eat Thayir Sadam cold, while Malayalis like the dish served at room temperature.
Trivia Tadka
Thayir Sadam or curd rice is a meal as well as a 'Prasadam' that is offered to Lord Shiva and Lord Ganesha. Culinary history believes that it is one of the oldest dishes that could have inspired the Italian Risotto. This comforting dish also unites the food cultures of Tamil Nadu, Andhra Pradesh, Kerala, and Karnataka with Odisha and West Bengal. Thayir Sadam is simple and easy to put together, so it is no wonder that it is a work-lunch staple in the southern states.
Ingredients
Rice, cooked

(2 cups)

Curd (Dahi)

(3 cups)

Green chillies (Hari mirch), chopped

(3)

Ginger (Adrak), grated

(1 inch)

Split chickpeas (Chana dal)

(½ tsp)

Mustard leaves (Sarson)

(1 tsp)

Dry red chillies (Sabut lal mirch)

(2)

Curry leaves (Kadipatta)

(5)

Salt

(to taste)

Oil

(1 tbsp)
Method
In a pan, heat oil on high flame. Add in the chana dal, sabut lal mirch, sarson, and kadipatta.
As the sarson begins to splutter, add the chopped hari mirch and grated adrak and sauté for a minute.
Add salt and sauté for a minute more.
Take the tadka off the heat and immediately pour over the cooked rice.
Thoroughly mix the tadka with the rice. Then, place the rice on a low flame.
Add the dahi and keep stirring till it blends well with the tadka rice. Take the Thayir Sadam off the flame and let it cool to room temperature.
Refrigerate the curd rice for an hour.
Serve the Thayir Sadam cold, accompanied by pickle and pappadam.
MEAL
2,045

views +
RELATED RECIPES
7,052

views +

5,357

views +
Scroll To Top