In the node detail page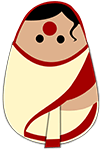 Bengali
Posto Bora
Duration: 25 minutes
Serves:

4 people

Spice Level: Medium
Authenticity Slice
It's best to use mustard oil to fry the Posto Bora since the strong flavour of the oil complements the nutty taste of posto. Before frying, make sure you heat the oil till it begins to give off smoke in order to get rid of the pungent smell of the raw oil.
Trivia Tadka
In most Bengali households, posto is an indulgence used sparingly as it costs anywhere between Rs.700 and Rs.1000 per kg. Therefore, most posto lovers prefer to savour it in its simplest form—as a coarse paste made with salt and green chillies and a spot of raw mustard oil. Posto Bora is generally served with fresh steamed rice. Posto is usually eaten at the start of a meal. Many Bengalis also add posto to curries for thickness and taste. It's also perceived as a potential cure for cancer.
Ingredients
White poppy seeds (khus khus)

(½ cup)

Green chillies (hari mirch), chopped

(3-4)

Onion, finely chopped

(1)

Wheat flour (atta)

(as required)

Salt

(to taste)

Mustard oil (sarson ka tel)

(1 cup)

Dry mango powder (amchur) (optional)

(1 tsp or as per taste)
Method
Wash and soak the posto (khus khus) in warm water for 30 minutes.​
Drain and transfer the posto into a mixer-grinder. Add hari mirch and salt with just enough water to make a thick, smooth paste with a slightly grainy texture. In a bowl, mix onions with the posto paste. Make sure the batter is of dropping consistency so that its shape remains intact while frying. Add a little flour to thicken the batter, if required. Check for seasoning.
Heat oil in a non-stick kadhai on high flame till it begins to give off smoke.
Lower the flame and carefully drop spoonfuls of batter into the hot oil. Fry, flipping the boras, until golden brown. Make sure you maintain enough space between two boras.
Drain the boras on a tissue paper and serve hot with steaming rice and dal.
You can also serve the boras as a standalone snack, with a sprinkling of amchur for a tangy taste.
Scroll To Top