In the node detail page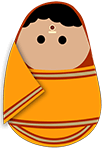 Kannada
Paddu
Duration: 20 minutes + fermenting time
Serves:

6 people

Spice Level: Medium
Authenticity Slice
The use of the special Paddu tawa ensures the best Paddus. You can find this tawa in south Indian stores across the country, and its non-stick variety is quite popular. As an alternative, a regular kadhai may also be used. To ensure that the Paddus taste just right and are spongy and soft in texture, the batter needs to be fermented for at least 8 hours.
Trivia Tadka
Paddus, Karnataka's popular 'dosa balls', were the invention of an innovative housewife who wanted to cut down the rice batter wastage in her kitchen. After adding chopped onions and green chillies to leftover dosa batter, she moulded it into small balls, deep-fried them, and served them to the children as evening snack. Over the years, Paddu came to become an integral part of Kannadiga cuisine and has now even spawned a special 'Paddu-maker'—a tawa with several circular moulds embedded in it.
Ingredients
Rice

(¾ cup)

Black gram(Urad dal)

(¼ cup)

Fenugreek seeds (Methidana)

(¼ tsp)

Flattened rice (Poha)

(1 tsp)

Onion

(1, medium)

Green Chillis (Hari mirch)

(2)

Curry Leaves(Kadipatta)

(4 to 5)

Oil

(to cook)

Salt

(to taste)

Split chick peas (Chana dal)

(1 tsp)
Method
Wash and soak together the rice, urad dal, chana dal, methidana and poha in water for at least 4 hours.
Drain the water and transfer all the ingredients to a mixer-grinder. Work the mix into a dosa-batter consistency.
Transfer the batter to a bowl, add salt and mix well. Cover and leave it to ferment overnight.
The morning after, finely chop the onion and hari mirch and add to the batter along with the kadipatta. Mix well.
Heat the paddu-maker on a medium flame and pour oil into all the individual moulds.
Next, pour spoons-full of the batter into the moulds, taking care to fill up till a little below the brim.
Turn the balls and fry on both sides till their skin becomes golden brown.
Alternately, you can heat oil on a medium flame in a kadhai and using a round-bottomed spoon/ladle, plop in the batter balls to be deep-fried till they turn golden brown on all sides. Using a perforated ladle, remove the cooked Paddu balls from the kadhai and transfer onto a kitchen tissue to drain out any excess oil.
Serve this tasty snack hot, accompanied by coconut or adrak chutney.
RELATED RECIPES
4,783

views +

7,098

views +
Scroll To Top