In the node detail page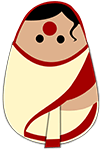 Bengali
Nolen Gur Sandesh
Duration: Preparation time + 30 minutes
Serves:

2–4 people
Authenticity Slice
Do not cook the mixture for more than 3–4 minutes if you want that soft and melt-in-the-mouth texture. It can turn hard and chewy if cooked for long.
Trivia Tadka
The word 'Nolen Gur' is enough to make Bengalis nostalgic. This date palm jaggery is an intrinsic part of Bengali culture. The season for this dish starts immediately after Diwali or Kali Puja. It tastes better during winters because of its freshness.
Ingredients
Cottage cheese of full fat milk (chhena)

(250 gm)

Lemon juice

(1 tsp)

Powdered sugar

(2 tbsp)

Date jaggery (nolen gur)

(4 tbsp)

Desi ghee

(for greasing the mould)
Method
In a paraat, knead chhena till it is smooth.
Add sugar and knead further till the sugar melts in.
Finally, add in jaggery before kneading the dough for another couple of minutes.
Cook the dough on low heat for 3–4 minutes. The dough will harden as it cools.
To shape the sandesh, use a stone or terracotta mould. Brush the insides of the mould with a little ghee and then flatten a piece of the dough to transfer the design.
You can serve warm, cold or at room temperature.
Scroll To Top