In the node detail page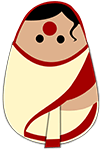 Bengali
Labanga Latika
Duration: 30 minutes
Serves:

2 to 4 people
Authenticity Slice
It is good to remember that the dough should neither be too soft nor too stiff. Also make sure that the Latika is not over-stuffed and that it is sealed well. And, always fry the Labanga Latika over a low flame.
Trivia Tadka
This famous Bengali sweet dish gets its name from a type of clove that is called 'labanga'. Labanga Latika is a simple poorie that is stuffed with mawa and sealed with a clove. It is generally served after Durga Puja to celebrate Bijoya Dashami, a day on which people visit neighbours to seek the blessings of elders. The elders traditionally greet the visitors with this sweet dish.
Ingredients
Refined wheat flour (maida)

(1 cup)

Desi ghee

(2 tbsp)

Baking soda

(a pinch)

Salt

(a pinch)

Clove (laung)

(5 to 6)

Mawa

(¼ cup)

Green cardamom (hari elaichi) powder

(1 tsp)

Sugar powder

(3 tbsp)

Sugar

(1 cup)

Water

(½ cup)
Method
Take 2 cups of flour and pour ¼-cup of hot oil into it. Mix it well and knead into a stiff dough using a little water. Keep it covered for about half-an-hour. Knead once more and make lemon-sized balls from the dough.
Meanwhile, prepare the stuffing. In a bowl, mix the mawa, elaichi powder and sugar powder. Keep gently stirring it for about 5 to 6 minutes. Cool and divide the stuffing into equal portions.
To prepare the sugar syrup, take the sugar along with some water in a pan and keep heating on medium heat till it gets to medium-thick consistency. Take it off the flame and keep aside.
Now, taking 1 dough ball at a time, roll out medium-sized poories and place a portion of the stuffing at the centre of each of them.
Then, take both ends of each poorie, make them overlap and firmly seal them up. Turn them on the other side and make the other 2 ends overlap as well. It should come to form a cylindrical shape. Use a single clove to fasten each cylindrical pocket properly at the top.
Deep-fry these on medium heat until they are golden brown in colour.
Now, transfer them into the sugar syrup after draining out any excess oil. Scoop out after some time.
Serve the Labanga Latika hot or cold.
Scroll To Top