In the node detail page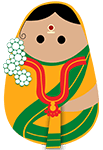 Tamil
Kumbakonam Degree Coffee
Duration: 2-3 hour
Serves:

6-8 people
Authenticity Slice
Degree refers to the thick milk that is used for the coffee. To make authentic Kumbakonam degree coffee with loads of froth, use full cream milk.
Trivia Tadka
There are many stories and theories behind the name 'Kumbakonam degree coffee'. However, the most popular among them is that a lactometer was used in those days to check the thickness and purity of milk and "degree paal" (thick milk) was used to make this coffee. Hence, the name degree coffee.
Ingredients
Filter coffee powder

(4 tbsp)

Water

(1 cup)

Full-cream milk

(3 cups)

Sugar

(to taste)
Method
To prepare the coffee decoction:
Remove the umbrella from the filter (percolator).
Add the coffee powder into the upper compartment.
Place the umbrella gently.
Heat water till it starts boiling. Switch off the heat.
Pour it slowly over the umbrella till the brim of the top compartment of the filter.
Close the lid and allow the 'decoction' to collect in the bottom compartment.
To prepare the coffee:
Boil milk.
Add sugar and froth the milk by transferring four to five times between two tumblers, or between a dabara and a tumbler.
Now add the required decoction in a tumbler and add the milk slowly and from a height.
Top the tumbler with the remaining froth and serve.
Serve Kumbakonam degree coffee steaming hot.
Note: The quantity of coffee powder will differ depending upon the size of the filter used. You can use readymade packed filter coffee powder or grind it at home with the
RELATED RECIPES
7,052

views +

5,357

views +
Scroll To Top