In the node detail page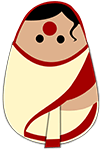 Bengali
Kheer-er-goja
Duration: 30 minutes
Serves:

2–4 people
Authenticity Slice
Do not soak fried goja in the sugar syrup for too long, as they can turn soggy.
Trivia Tadka
Kheer-er Goja is a deep-fried sweet dish from Bengal. It is crunchy on the outside but moist and flaky inside. It's a hot sell in Kolkata's sweet shops. The dish is innovation of Khasta Goja, which is a famous sweet-dish of Orissa. The only difference between the two is that the former is made from flour and the latter is filled with kheer.

Ingredients
Refined wheat flour (maida)

(2 cup)

Baking powder

(1/4th tsp)

Salt

(1 tsp)

Nigella seeds (kalonji)

(1 tsp)

Oil

(for deep frying)

Desi ghee

(1 tbsp)

Water

(1 1/2 cup)

Sugar

(2 cup)

Green cardamom (elaichi), lightly toasted and cracked

( (2))

Lemon juice

(1 tsp)

Milk

(2 tbsp)
Method
Combine sugar, water (1 cup) and elaichi pods in a heavy bottom pan and bring to a boil. Stir frequently.
Add milk and skim the resultant scrum.
As the syrup thickens, reduce the heat and test the consistency. Once the sugar syrup has reached a two-string consistency, turn off the heat and add lemon juice (this prevents the syrup from crystallizing).
In a paraat, mix flour, salt, baking powder and kalonji. Add ghee and work it well into the mixture.
Add water little by little and knead till a stiff dough is formed.
Divide the dough into equal parts.
On a well-oiled surface, roll out each ball into a roughly rectangular shape. Oil the surface of the dough. Fold widthwise in half and roll out again. Keep repeating the above steps to build up layers. Make sure to brush some oil between each layer.
If during the course of rolling, the shape changes, cut the goja in half, brush some oil and place one-half over the other (oiled surface facing each other). Roll out the dough in the same direction as before.
Once you have built up 4–5 layers, deep-fry the gojas in oil till golden brown.
Drain and immerse in sugar syrup for about 40 seconds before taking them out.
They are now ready to be served.
Scroll To Top