In the node detail page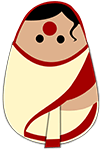 Bengali
Kancha Pepe Ghonto
Duration: 30 minutes
Serves:

4 people
Authenticity Slice
Usually, ground magaz (melon seeds) or kaju (cashew nuts) were added to thicken gravies and add to the taste and texture of dishes.
Trivia Tadka
In 18th Century Bengal, the kitchen played a central role in the lives of widows. Their ingenuity led to several new culinary practices, such as the use of unique combinations of spices. Using the simplest of cooking techniques creatively, they infused a delectable taste into the cuisine. Since widows were discouraged to partake of 'aphrodisiacal' condiments such as onion or garlic, most Bengali vegetarian recipes used ginger instead. This papaya dish is a favourite meal-starter even today due to its health benefits, including an increase in the metabolic rate.
Ingredients
Papaya (large raw)

(1)

Red mustard seeds(Rai)

(½ tsp)

Fenugreek seeds(Methi dana)

(½ tsp)

MTR Haldi Turmeric Powder

(¼ tsp)

Ginger(Adrak) paste

(1 tsp)

Ghee

(1 tsp)

Oil

(2 tbsp)

Bay leaves(Tejpatta)

(1 )

Sugar

(½ tsp)

Salt

(to taste)

Melon seeds(Magaz) /Cashew nuts(Kaju)

(4 tbsp)
Method
Peel the papaya and cube it into equal pieces. Boil the cubes for 4 to 5 minutes and drain.
Heat oil in a frying pan and add the rai. When they splutter, add methi dana and tejpatta. Stir fry for a few seconds till the spices give off an appetising aroma.
Add the papaya cubes and salt. Sauté for 3 to 4 minutes. Add haldi and ginger paste and stir for 2 minutes on medium flame.
Add about 1½ cups of water and the sugar. Cook the papaya on medium flame, stirring occasionally, till it is soft and succulent.
Grind magaz seeds or cashew nuts into a fine paste in a mixer-grinder and add to the papaya. This was used to thicken the gravy and enrich the taste and texture of the dish. Cook for few minutes till the gravy acquires a typical shimmer.
Add ghee and cover the pan. Let it stand for 10 minutes, allowing the papaya to absorb all the flavours.
Serve it piping hot with perfectly puffed luchi (Bengali equivalent of the puri, made with maida and fried in ghee).
Scroll To Top