In the node detail page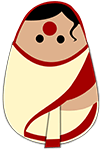 Bengali
Kalo Jaam
Duration: 30 minutes
Serves:

2–4 people
Authenticity Slice
While frying the jamun keep the flame low, as on high heat, the outer layer will cook fast but the jamun will remain uncooked on the inside.
Trivia Tadka
Not so distant cousin of gulab jamun, kalo jaam or kala jamun is a popular paneer-based Bengali dessert made from freshly curdled milk. Kala jamuns are larger and darker than gulab jamuns and have an additional ingredient—khoya.
Ingredients
Khoya

(1 cup)

Paneer

(1/2 cup)

Refined wheat flour (maida)

(2 tbsp)

Cardamom powder (elaichi)

(1/2 tsp)

Milk to bind

(1 tbsp)

Sugar

(2 cup)

Saffron (kesar)

(2–3 strands)

Rose essence

(a few drops)

Desi ghee

(for deep-frying)
Method
In a bowl, grate khoya and paneer and mix well.
Add maida and elaichi powder to the mix and mash thoroughly till everything combines well. If dry, add a few drop of milks to bind it together.
To prepare the sugar syrup, combine sugar and water in a pan and bring it to a boil.
Simmer till the syrup reaches a single thread consistency.
To check consistency, lengthen the syrup between your forefinger and thumb.
When you have a single thread, switch off the heat.
Add kesar and the essence and store well.
Make small kalo jaams from the dough; make sure there are no cracks in the surface.
Heat desi ghee in a kadhai, and drop the balls in, fry till golden brown.
Add the fried kalo jaam to the sugar syrup immediately. Soak for a while.
The Bengali delicacy is ready to be served.
Scroll To Top