In the node detail page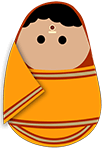 Kannada
Jowar Roti (Jolada Roti)
Duration:
Serves:

people

Spice Level: Zero
Authenticity Slice
The jowar atta dough is usually very sticky, so handmade-rotis are difficult to get. The authentic way is to use a lot of dry jowar atta while patting the roti on the palm, and then dusting it off before transferring it on to the tawa.
Trivia Tadka
The Jolada Roti is a north Karnataka staple, heartily savoured with dals, curries and chutneys. Jowar is a gluten-free millet, and has traditionally been considered a healthier and more nutritious alternative to wheat flour. Jolada Roti is also popular in the Belgaum region of Maharashtra, where it is eaten with 'jhunka bakhri', a chickpea flour curry tempered with onions.
Ingredients
Jowar atta (sorgum flour)

(2 cups)

Water, boiling

(½ cup or less, as required for making a roti-like )
Method
Take the jowar atta in a 'paraat' (big, flat plate with shallow edges).
In a separate vessel, place the water (½ cup) to boil.
Add this boiling water to the atta and knead it into a roti-like dough.
To make the rotis, roll small balls out of the dough. Place one ball at a time onto the inside of your palm and pat them gently with the other hand so as to form medium-sized flat circles.
Use as much dry atta as required to comfortably pat the rotis into shape.
Heat a flat tawa on a high flame. Then, lower the flame and carefully transfer a roti onto the tawa.
When the lower part of the roti begins to dry up, apply water on to the top surface with the help of a piece of soft cloth. Allow it to remain so until the water begins to evaporate.
Then, carefully flip the roti and press down with a cloth, letting the lower side cook evenly. If pressed gently, the roti will puff up like a puri.
Remove the cooked Jolada Roti and serve hot with dal and brinjal curry.
RELATED RECIPES
4,580

views +

6,896

views +
Scroll To Top