In the node detail page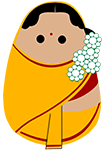 Telugu
Groundnut Chutney (Palli Pachadi)
Duration: 10 minutes
Serves:

6 people

Spice Level: Medium
Authenticity Slice
The authentic Palli Pachadi was never ground to a fine paste, since its natural coarse texture has its own unique flavour. It also helps stop the oil from seeping out of the groundnuts.
Trivia Tadka
About 200 years ago, a virulent pest attack had left Andhra Pradesh grappling with a severe coconut shortage. It was in this period that Palli Pachadi was discovered to be a suitable replacement to accompany Rice, Dosas and Idlis. Groundnuts were grown abundantly in this region and were being generally used as an ingredient for tempering dishes like Imli Rice and Upma. For long considered a poor cousin of Coconut Chutney, this dish has soared in popularity over the years and found a respectable place in the long list of legendary Andhra 'Pachadis' (chutneys).
Ingredients
Groundnuts(Moongfali), shells removed

(½ cup)

Onion (medium sized), sliced

(1)

Garlic(Lahsun) pods

(4)

Dry red chillies(Sabut lal mirch)

(2-3)

Tamarind(Imli) pulp

(1 tsp)

Salt

(to taste)

Refined oil

(2 tsp)
For the tadka
Oil

(1 tbsp)

Mustard leaves (Sarson)

(½ tsp)

Curry Leaves (Kadipatta)

(5)
Method
Dry roast the moongfalis in a kadai till they turn deep red. Take them off the flame and let them cool.
Peel the skins off the moongfalis by rolling them between your palms. Keep aside.
In a pan, heat 1 teaspoon of oil on a high flame and then add the sabut lal mirch. Sauté for a few seconds before removing from the flame and keeping aside to cool.
In another pan, heat 1 teaspoon of oil on a high flame and add the sliced onions and garlic pods. Fry till the onions start to turn pink. Remove from the flame and let the mixture cool.
In a mixer-grinder, toss in the roasted moongfalis along with the fried onion-garlic mixture, lal mirch, imli pulp, and salt.
Grind till the mixture thickens but remains coarse. To get the right consistency, sprinkle a little water if needed.
Transfer this paste to a bowl and keep aside.
For the tadka, heat oil in a pan till it starts to give off smoke. Toss in the sarson and as they start to splutter, add the kadipatta and sauté for a couple of seconds.
Turn off the flame and immediately pour the tadka over the groundnut mixture.
Vigorously mix the concoction and then cover the bowl for a few minutes to allow the flavours to seep in.
Serve it with steamed Rice, Idlis, or Dosas.
RELATED RECIPES
3,502

views +

2,662

views +
Scroll To Top