In the node detail page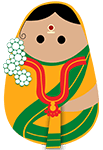 Tamil
Drumstick Leaves Dosa (Murungai Keerai Adai)
Duration: 20 minutes
Serves:

4 people

Spice Level: Medium
Authenticity Slice
The Drumstick-Leaves Dosa batter is a little different from the regular dosa batter as it is coarser. It is best to use tender drumstick greens in the recipe as they are more flavourful. This dosa is ideally prepared thicker than the usual dosa and requires more oil to fry, especially if you like it crisp. One interesting option is to grind the onion along with the rice. If you are looking for a crunchy taste, the best bet it to use chopped and fried onions. Also, instead of the powder, try using the rock variety of hing as it settles well with the flavour of drumstick greens.
Trivia Tadka
'Murungai' is the Tamil word for 'drumstick leaves'. Drumsticks and their leaves are used extensively not just in Tamilian cuisine but also in the food traditions of all the other south Indian states. These leaves have been used in dals for ages and have even been added to dosa batter. Packed with protein, this version of the dosa makes for a nutritious Tamilian breakfast. The Drumstick-Leaves Dosa is a very popular part of Konkani (Goan) cuisine as well.
Ingredients
Idli rice/ parboiled rice

(½ cup)

Raw rice

(¼ cup)

Urad dal (black gram)

(¼ cup)

Chana dal (split chickpeas)

(¼ cup)

Aahar dal (split pigeon peas)

(¼ cup)

Hari moong dal (green gram dal)

(¼ cup)

Sehjan ke pattey (drumstick leaves)

(2 cups)

Hari mirch (green chillies), halved

(5 to 7)

Ginger, finely chopped

(1 tsp)

Large onion, finely chopped

(1)

Salt

(to taste)

Oil

(to fry)
Method
Wash the rice thoroughly and soak it overnight in water. Do the same with the dals.
The following morning, toss the soaked rice into a mixer-grinder and work up a smooth paste.
Next, add the dals, salt, green chillies and ginger to the rice paste and grind again till the batter turns into a coarse paste. (Be careful about not adding too much water; the mixtureshould be of idli batter consistency).
Transfer the batter to a bowl.
Wash the drumstick leaves and soak them in water for about 5 minutes.
Drain the water and add the leaves to the dosa batter along with the chopped onions and mix well.
Heat a non-stick tawa on a medium flame and pour a ladle-full or half-a-katori of batter at its centre. Moving the base of the katori in circular motions, spread the batter till the dosa is 5 to 6 inches in diameter.
Sprinkle oil along the edges. Cover and let it cook for about 30 seconds on a medium flame.
Remove the cover and flip the dosa. Let it stay on the tawa for a minute and then gently transfer it to a plate.
Serve the Murungai Keerai Adai hot with coconut chutney.
RELATED RECIPES
7,052

views +

5,357

views +
Scroll To Top