In the node detail page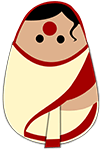 Bengali
Darbesh
Duration: 30 minutes
Serves:

2 to 4 people

Spice Level: Zero
Authenticity Slice
Remember to not fry the boondies for too long as that will make them too crisp. Also, always prepare the laddoos when the boondies are slightly warm, as this makes it easier to give them the desired shape.
Trivia Tadka
This is the Bengali version of the popular boondi laddoo. It is an extremely popular Bengali sweetmeat, made especially during Durga Puja or the Sharodiya festival. The sweet is named after the boondies, which are coloured like the robes of a dervish.
Ingredients
Gram flour (besan)

(2 cups)

Khoya

(½ cup)

Green cardamom (hari elaichi) seeds, crushed

(1)

Baking powder

(a pinch)

Oil

(for deep frying)

Cashew nuts (kaju)

(2 tbsp)

Rice flour

(½ cup)

Nutmeg powder

(1 tsp)

Raisins (kishmish)

(2 tbsp)

Red and yellow food colour

(4 to 5 drops)

Sugar for syrup

(4 cups)
Method
In a bowl, mix the flour with the baking powder, besan and water. Whisk well to get a pakora-consistency batter.
Divide the batter into 2 parts. Then, add red colour to 1 half of the batter and yellow colour to the other.
Heat oil in a kadhai and pour in the batter, passing it through a perforated ladle. Fry the dough bits for a little while and then transfer them onto a separate plate.
In a pan, boil some water and add in the sugar to make a thick syrup. It will take around 5 to 7 minutes for this.
Dip the boondies in the sugar syrup. Then, simmer them on a medium flame for about 5 minutes and keep stirring intermittently.
Turn off the flame and cover with a lid. Transfer the boondies into a big paraat (big, flat plate with shallow edges) and mix in the nutmeg powder, raisins, khoya, cashew nuts and the crushed cardamom seeds while the boondies are still a little warm.
Use your palm to make round-shaped boondi laddoos.
Darbesh is now ready to be served.
Scroll To Top