In the node detail page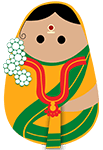 Tamil
Cashew Pakodas (Munthiri Puruppu Pakoda)
Duration: 20 minutes
Serves:

4 people

Spice Level: Zero
Authenticity Slice
In the old plantation kitchens, the test of the best pakora was its softness. This was ensured by whisking the besan used to make the pakoras just right. To gauge whether the besan has been properly whisked, drop a few bits of the batter into a glass of water. If they float up, the batter is good to go. Also, if adequately whisked, the yellow hue of the besan would have turned much lighter in shade.
Trivia Tadka
Tamil Nadu is rich in cashew nut plantations, so naturally the Munthiri Puruppu (cashew) Pakora is a common dish of this region. Hundreds of years ago, the wives of plantation workers would rustle up the pakoras as evening snacks, serving them hot with filter coffee. The cashews for these pakoras came from the damaged produce left over after the best had been sorted for exporting. Over the years, these rich pakoras have become common at home kitchens as well as at parties of the region.
Ingredients
Besan (gram flour)

(½ cup)

Rice flour

(½ cup)

Corn flour

(¼ cup)

Kaju (cashew nuts), broken roughly

(½ cup)

Saunf (fennel seeds)

(1 tsp)

Hari mirch (green chillies), finely chopped

(3)

Lahsun (garlic) pods, chopped

(3)

Pudina (mint leaves), chopped

(¼ cup)

Kadipatta (curry leaves), chopped

(4)

Oil for deep frying

(2 tbsp)
Method
In a bowl, put in the besan and add just enough water for it to turn into a thick paste on mixing. Rigorously whisk this batter with a fork till the besan begins to lighten in colour.
Add the rice flour, corn flour, cashews, saunf, garlic, mint, kadipatta, salt and hot oil to the whisked besan and mix well.
Keep sprinkling small amounts of water while mixing till a thick, even batter is formed.
Heat the oil in a kadhai. Take 1 tbsp of the batter and gently drop it into the oil to make a medium-sized pakora. Make and fry 5 to 6 such pakoras at a time. Ensure that there is enough oil and space in the kadhai for the pakoras to puff up while being fried.
Turn the flame down to medium and fry the pakoras till they turn golden brown on all sides.
Scoop them out of the kadhai using a perforated ladle and transfer to a kitchen tissue to drain out any excess oil.
Serve as an evening snack with piping hot filter coffee.
RELATED RECIPES
7,052

views +

5,357

views +
Scroll To Top