In the node detail page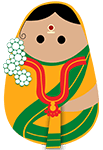 Tamil
Avial
Duration: 35 minutes
Serves:

4-5 people

Spice Level: Low
Authenticity Slice
Authentic avial contains neither imli (tamarind) nor hing (asafoetida). You can add to the dish any number of vegetables you have at hand, but remember, yam, raw banana, and carrot are its signature ingredients.
Trivia Tadka
Avial's history is ensconced in Indian mythology. It is said that Bhima invented this dish while he was masquerading as a chef in the kingdom of Virata. The macho warrior knew nothing about cooking, so when the head chef asked him to cook something exciting, he chopped up all the vegetables he had at hand, boiled them, added a dash of grated coconut and called the dish 'Avial'. Tamilians, however, often regale listeners with the story of a king who got worried by the food wastage in his kitchen and instructed his chef to create a dish that used up all the leftover raw vegetables and tasted divine at the same time. But no matter how one believes Avial was born, no one can contest its great taste and high health quotient.
Ingredients
Yam (kachlu)

(350 gm)

Raw banana (kaccha kela)

(250 gm)

Drumstick (sahjan)

(100 gm)

Snake gourd (padval)

(100 gm)

Carrot

(100 gm)

Long beans (lobia ki phalli)

(50 gm)

Coconut, freshly grated

(150 gm)

MTR Haldi/Turmeric Powder

(1 tsp)

Cumin (jeera)

(½ tsp)

Salt

(to taste)

Curry leaves (kadipatta)

(10-12)

Mango (raw), optional

(50 gm)

Coconut oil

(2 tsp)
Method
Cut the kachlu, kaccha kela, sahjan, padval, carrot, and lobia ki phalli into 1-inch cubes.
Put all the vegetables in a pressure cooker and add in water till it rises half an inch over the level of the vegetables. Add a pinch of MTR Haldi/Turmeric Powder and salt.
Pressure-cook on high flame, timing it to 2 whistles. Remove from flame and let the steam escape naturally.
Open the lid and put the cooker back to heat on medium flame.
Add coconut, MTR Haldi/Turmeric Powder and jeera and stir for a minute.
Add the kadipatta and adjust the seasoning. Keep stirring the concoction on a slow fire till the gravy dries up.
Remove from flame and add the coconut oil just before serving.
MEAL
2,045

views +
RELATED RECIPES
7,052

views +

5,357

views +
Scroll To Top