In the node detail page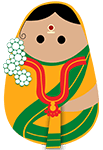 Tamil
Akkaravadisal (Jaggery rice pudding)
Duration: 30 minutes
Serves:

2-4 people
Authenticity Slice
In temples, it's cooked in a bronze pot, which is time consuming, but gives it a unique flavour. Mash the rice and dal a bit for the best consistency. Soaking them early will help.
Trivia Tadka
Akkaravadisal is a variation of the traditional sweet Pongal. It's a famous Iyengar speciality and is traditionally made in temples in Tamil Nadu as an offering. Akkaravadisal is bacially rice and moong dal slow-cooked in milk. This creamy and delectable pudding is sweetened with jaggery and flavoured with saffron, cardamom and camphor.
Ingredients
Raw rice

(1 cup)

Yellow gram (moong dal)

(2 tbsp)

Jaggery (gud)

(1/4 cup)

Milk

(2 cups)

Water

(1/2 cup)

Ghee

(2 tbsp)

Cashew nuts (Kaju)

(2-4)

Raisins (kismish)

(2-4)

Cardamom (elaichi), crushed

(2 pods)

Saffron (kesar)

(2-3 strands)
Method
Wash the rice and moong dal. Soak for at least 2-3 hours. Drain and keep aside.
Take a copper-bottomed vessel and add 2 tbsp ghee. Fry the kaju and kismish in the hot ghee for just 1minute.
Remove it using a slotted spoon and keep aside.
In the leftover ghee, fry the rice-dal mixture for a few minutes. Add the milk and bring to a boil.
Reduce the flame and cook on medium-to-low heat till all the liquid is absorbed. By now, the mixture will be cooked, mashed up and creamy.
In the meantime, prepare the gud. If the gud is of a high quality and free of impurities, then just powder it. If not, melt it in ¼ cup of hot water and strain.
Add it to the creamy pudding and continue to cook on a low flame.
Once everything comes together, add the remaining ghee, crushed elaichi, soaked kesar, camphor, toasted kaju and kismish. Cook for few more minutes.
Switch off and enjoy the Akkaravadisal hot.
RELATED RECIPES
7,052

views +

5,357

views +
Scroll To Top